Inventory tracking is a simple way to streamline inventory management on FreshBooks within your Items & Services page.
You're a physiotherapist who also sells stretching bands to clients. Or a dog trainer, who offers specialty training tools along with your services. Or a hairdresser who sells their favourite styling product after every haircut. Bottom line: You carry inventory.
But inventory management (even in small amounts) takes effort. You need to know how much you have on hand and how much you've sold. You need to know when to reorder materials, so you don't oversell on items. And you even need to know which items aren't selling so you can avoid them in the future. It's a small chore, but a chore nonetheless…
To help, FreshBooks has added inventory tracking to the Items & Services page. It is a simple inventory tracking system that will allow you to easily keep track of all the inventory you invoice for, all in one place.
Table of Contents
What Is Inventory Tracking?
Inventory tracking on FreshBooks allows you to add, edit, and review inventory for billable items within your account. Keep track of items you have in stock, and the amount is automatically reduced when invoiced for.
There are other platforms that offer in-depth inventory tracking systems and inventory management, but FreshBooks makes it simple. While most inventory tracking software requires constant oversight, the simple inventory tracking on FreshBooks allows you to quickly update and view stock levels at-a-glance.
Where Is Inventory Tracking in My Account?
Simply login and navigate to the Items & Services page by clicking on the cog icon in the top left corner of your dashboard. Here you'll find a list of all your billable items that you can add inventory to. It's a basic inventory tracking system that makes inventory management hassle-free.
How Do I Add Inventory to an Item?
Adding inventory to an item is easy:
Log into your FreshBooks account
Once on your Dashboard, click the cog icon in the top left corner
Click on the Items & Services page
Click the green Create New button in the top right corner
Fill in your item details
Click the Track Inventory box, and add how many items you have in stock
That's it. Once you invoice for that item, the stock will be automatically reduced for easy tracking. Here's what it looks like in-app: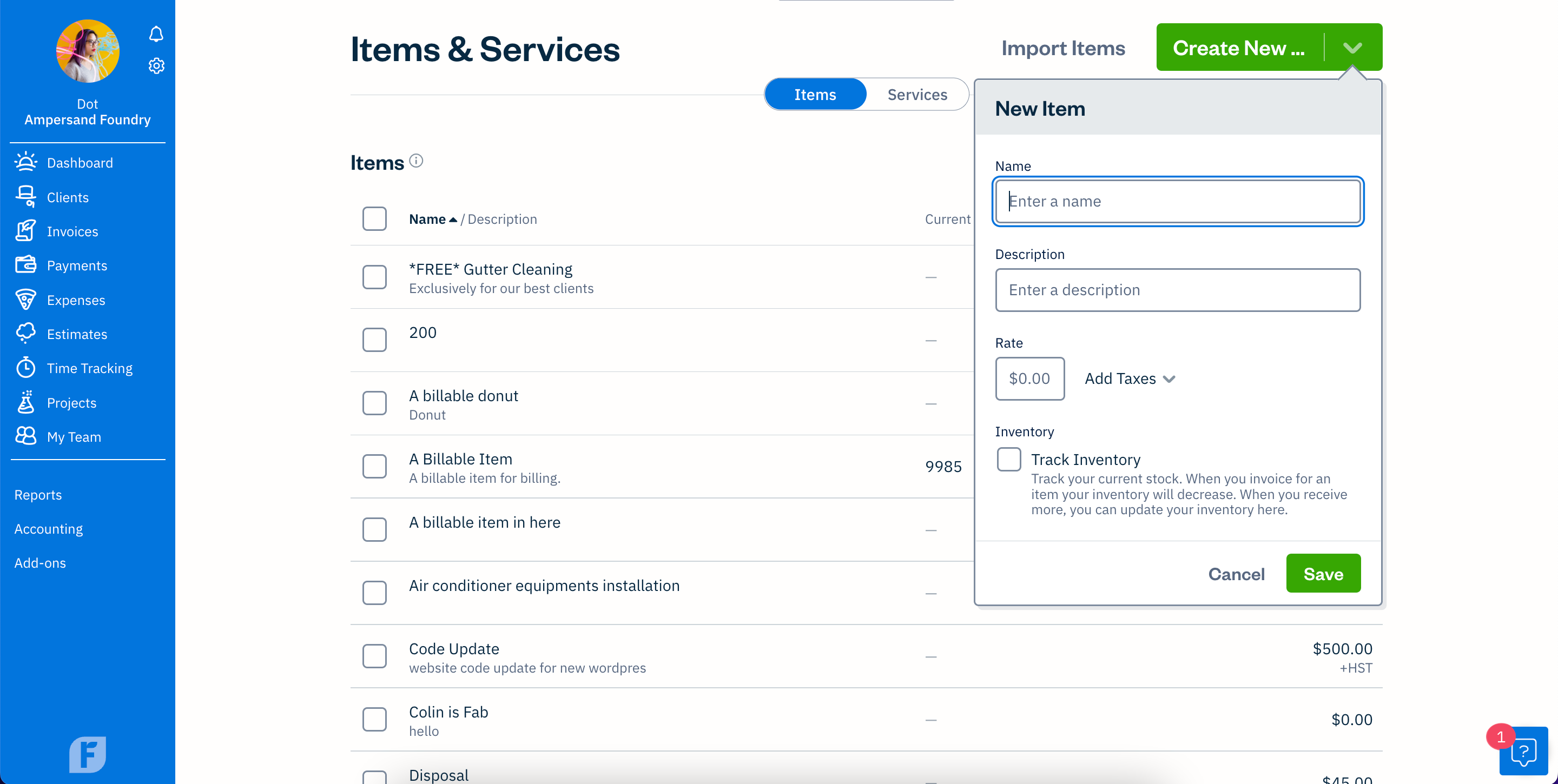 What if an Item Runs Out of Stock?
When you add more items to an Invoice than is currently available in your stock, you'll see a tooltip that notifies you, so you don't oversell it. Here's what it looks like on an Invoice:
What Other Platforms Can I Track Inventory From?
If you already track inventory using Shopify, Squarespace, BarCloud, or 2Ship, you can automatically pull your data into FreshBooks using each platform's dedicated integration. This will help you keep an eye on all your inventory all in one place.
Why Should I Track My Inventory?
Keeping track of your inventory helps you stay on top of what you have in stock, so you can always be sure you are able to fulfill any upcoming orders. Also, using an item sales report will help you keep an eye on which items are making you money, and which items aren't, so you can decide what you want to continue selling in the future.
Why Should I Supplement My Services With Inventory?
Your clients trust you and the products you use, so it's natural that they'd want to use those products at home too. By carrying a small amount of inventory, you can create additional income by providing those items directly to customers.
It's convenient for your clients, and provides another source of income for you, with no additional hours needed. Because these products don't replace your services, they simply give you another way to make income from your existing clients. We call that a win-win!
Do I Need an Inventory Tracking System for Tracking Inventory?
Not necessarily! If you only sell limited-runs, don't care to know how much inventory you have, or don't want to bother with inventory management, you don't need a system. However, having an inventory management system – simple or complex – makes it easy to keep an eye on inventory levels for products you actually have on hand versus orders coming in.
And while you could use inventory tracking methods like pen and paper, or note on your phone, formalizing the process in FreshBooks makes it easier to track. And so it makes for a better customer experience to use inventory management software like FreshBooks – so you can be sure to have an item if a customer buys it.
How Does FreshBooks Compare to Manually Tracking Inventory?
By adding inventory data to items within FreshBooks, you automate the process when going to create an invoice. So if you are out of an item, you'll get notified of it. This is really helpful if your business has multiple locations or sales channels, where one location may have sold the last of an item. With manual tracking, you don't get the same automation and so it can be hard to track inventory quantities in real time.
So taking the dog trainer example, if there is a lot of customer demand for a tool you're selling after a class, that's also available online, you want to know in real time if that item is available. FreshBooks keeps that stock updated so you can track inventory across multiple locations.
Need Help Getting Started with Inventory Management?
If you have any questions on how to start tracking your inventory, like: Do I need to manage inventory, how is it better than manual inventory tracking, or how can I improve on my current inventory tracking method? A team is ready to help you out. Contact them here.
This post was updated in December 2022.
---